Article published in Python Magazine
A couple of months ago Doug Hellmann, the chief editor of
Python Magazine
, invited me to write a featured article. I'm happy to share the good news that my article
Writing a Personal Link Recommendation Engine
has eventually been published in this year's February issue.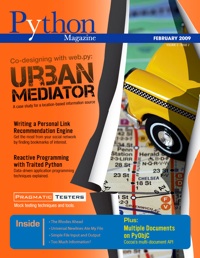 Here's a brief teaser:
Writing a Personal Link Recommendation Engine There is so much going on in the Internet today that it's hard to keep track of it all. Whether you need to stay up to date with job-related information, the current state of research, or the latest developments in the Open Source world, finding relevant information quickly on the Internet is difficult. So-called "social" services such as Delicious.com or Digg.com try to support users by allowing them to collaboratively share their knowledge about interesting web sites. In this article, we will design and implement a simple, yet powerful link recommender whose analysis is based solely on Delicious.com social bookmarks information.
Interested?
Head over to PyMag
and have a look!